We can restore teeth that are damaged, decayed or lost by utilizing crowns and bridges. A crown—or "cap" as it is often called—is used to restore a single tooth while bridgework replaces multiple teeth. These restorations are created specifically for you and then placed at your next appointment.
If you are looking for dental crowns in Winston-Salem made according to the best principles in cosmetic and restorative dentistry, please call 336-765-2921 or email Robinson Dental Studio today for an appointment.
Why You Might Need a Dental Crown
Dental crowns are very versatile restorative dentistry procedures. They can be used to:
Repair extensive decay
Support a structurally damaged tooth
Provide cosmetic improvement
Build up teeth that are small or worn down
Protect a tooth after a root canal
Support a dental bridge
In all of these cases, a dental crown works well to perform the job it is called on for. Dental crowns fit over the tooth, providing a completely new surface for the natural tooth. The result is a more attractive, stronger, and sturdier tooth.
In the past, many crowns were made of metal, and metal crowns are still an option, but today all-ceramic crowns are very durable and are capable of standing up to some of the toughest forces your mouth has to withstand. Beauty and brawn together in one dental crown.
Dental Bridges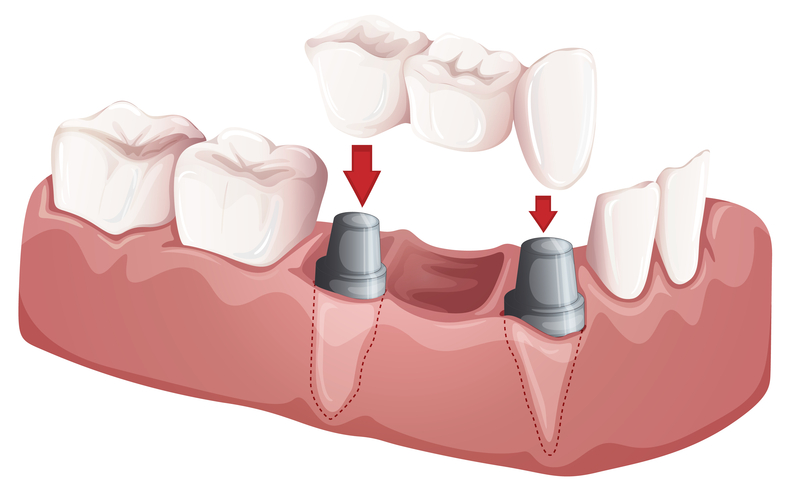 Dental bridges are used to replace a lost tooth. They are sometimes called "fixed partial dentures," because they're like a denture for a few teeth, but they're permanently affixed in your mouth. They don't come loose and they don't need to be removed for cleaning. A dental bridge allows you to eat all your favorite foods without worry. And they look so natural, no one will be able to tell you have it.
However, a dental bridge does still have some limitations when compared to a dental implant. First, because a dental bridge requires your other teeth to support it, those teeth have to be modified, which might mean removing healthy enamel, which we prefer not to do. And because the teeth are supporting the bridge, there is a slight increase in tension those teeth must resist, which can, in some cases, lead to tooth failure.
And dental bridges don't support your gums underneath them as dental implants do. This could mean that the body decides to remove tissue from the bone under the bridge. The body thinks the bone isn't necessary because there's no teeth to support. This could cause the gums and jawbone to collapse, which can lead to functional and cosmetic problems.
If you want to learn about the benefits of dental crowns and bridges in Winston-Salem, please contact Robinson Dental Studio today.