We use the latest advances in laser therapy to help reshape your gums and improve the appearance of your smile. This technique is also used to for periodontal therapy, ulcer removal, gingival trimming, crown lengthening, frenectomy procedures and more. It's simple and quick and no stitches involved.
If you would like to learn whether laser therapy in Winston-Salem can help you achieve the smile you desire more easily and more comfortably than older techniques, please call 336-765-2921 or email Robinson Dental Studio today for an appointment with our dentist.
Benefits of Laser Therapy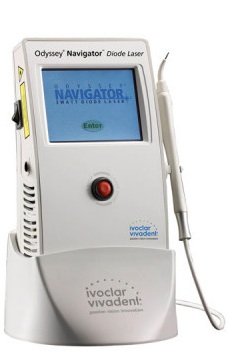 Laser therapy essentially replaces scalpels, scrapers, and other physical methods of cutting or scraping your gums and other soft tissue. It has many benefits, including:
Less discomfort
Less bleeding
No need for stitches
Reduced infection risk
Shorter recovery
Less need for restricted diet and hygiene
Laser therapy offers these benefits because it's less traumatic on your tissue than blades. Its precision allows us to focus exactly on the treated area which less risk of damaging surrounding tissue. And it doesn't leave an open wound, but generally seals the cuts it makes, which is what reduces bleeding and eliminates the need for stitches. It also reduces the recovery period and makes your tissues more stable right away, so you don't have to treat them as delicately, though you still have to follow a few restrictions after your laser therapy.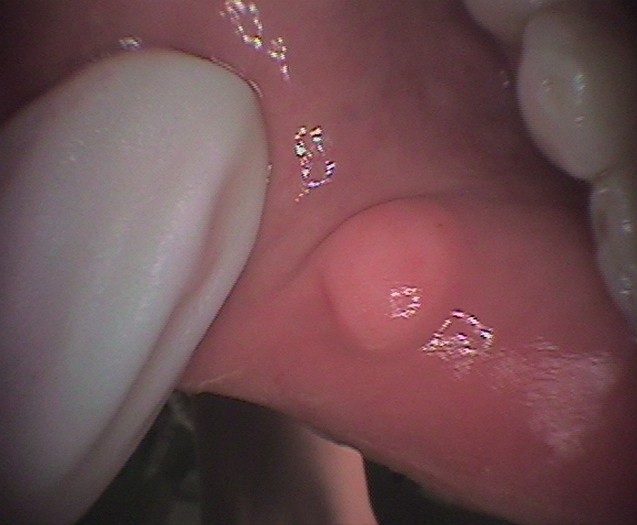 Fibroma Removal Before
Fibroma Removal After
Gum Recontouring
In gum recontouring, we use a laser to reshape your gum line so it presents an even and level scalloped line. Uneven gums can make your smile look crooked, even if your teeth are straight. It can also make your smile look unhealthy.
Crown Lengthening
This is a special type of gum recontouring that's done when your gums are covering some of your tooth crowns to make your teeth look short. By removing excess gum tissue, we can show off your beautiful teeth.
If your teeth are actually short, crown lengthening won't help, but maybe porcelain veneers will.
Gum Disease Treatment
In the past, diseased gum tissue was often cut or scraped away manually. Laser gum therapy can be used instead to clean out infected pockets of the gums, sterilizing them at the same time as removing diseased tissue.
Frenectomy
A frenum or frenulum is a thin membrane of tissue. In your mouth, a frenum that connects your lips to your gums or your tongue to the floor of your mouth can interfere with your ability so smile, talk, or perform other normal functions with your mouth. A laser can be used to detach the frenum so that your mouth moves more easily.
To learn how laser therapy can benefit you, please contact Robinson Dental Studio in Winston-Salem today for an appointment with our dentist.