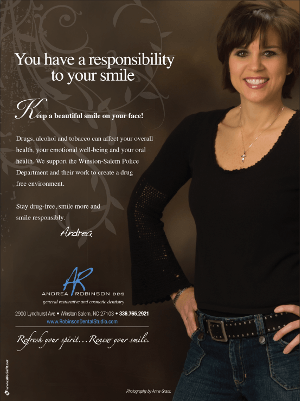 We've all heard that tobacco products, especially cigarettes are bad for our health, but here are some things related to tobacco you may not know.
Worldwide, death due to tobacco use claims 500,000 women per year and that number is expected to double by year 2020.
North Carolina is ranked 12th for deaths due to lung cancer in both sexes according to the CDC statistics for 2006.
In middle school aged children, 1 out of 8 has tried some form of tobacco product.
The average age for first time smokeless tobacco use is 10.
Young females may experiment with smokeless tobacco as a means to lose/control weight.
Smoking can damage a women's reproductive health resulting in infertility and early menopause.
The nicotine amount in a can of smokeless tobacco is equivalent to approximately 60 cigarettes.
Some types of "premium" cigars, one cigar can have the tobacco equivalent of 1 pack of cigarettes.
Children exposed to secondhand smoke have a higher incidence of cavities.
Besides oral cancer and precancerous lesions(leukoplakia) oral problems from smokeless tobacco include yellow/stained teeth, chronic bad breath, gum recession, loss of the jaw bone, tooth loss, tooth abrasion, tooth decay, gum disease and an altered or decreased sense of taste and smell.
Tobacco use drains the economy of more than 193 billion dollars in health care costs and lost productivity at work according to the CDC.
Nicotine is for most people more addictive than alcohol. And it is thought to be as addictive as heroin and cocaine.
Tobacco is responsible for 1 out of 5 deaths according to the CDC.
On average a one pack per day smoker spends $1638 a year on cigarettes. There are also additional costs related to mints, gum and breath freshening products. Whitening products are highly sought after by smokers.
Health, life and homeowners insurance rates are higher for tobacco users.
Smoking can age your face by dulling and wrinkling your skin.
Research shows cigarette smoking is a risk factor for osteoporosis.
The co-use of tobacco and alcohol greatly increases your risk for oral cancers.
Smoking increases risk for Crohn's disease.
Tobacco "orbs" which are dissolvable tobacco products (that can have a candy-like appearance) can put young children at risk for "nicotine poisoning".
Electronic cigarettes or e-cigarettes do not contain tobacco but do have nicotine solutions in them. They are not considered as smoking cessation devices. Their health risks are unknown at this time.
One pack per day equals to 7,300 cigarettes a year.
Secondhand smoke could possibly harm your pet's health too.
Taking the $1638 figure above- if a smoker stops at age 40 and invested that money making 9% interest at age 70 they could accumulate a nest egg of about $250,00.
So does any of that make you think? The smoking habit can be successfully kicked!
Don't let cancer literally wipe the smile off your face. You have a responsibility to your smile and health.
And don't forget to give others your best smile ever.